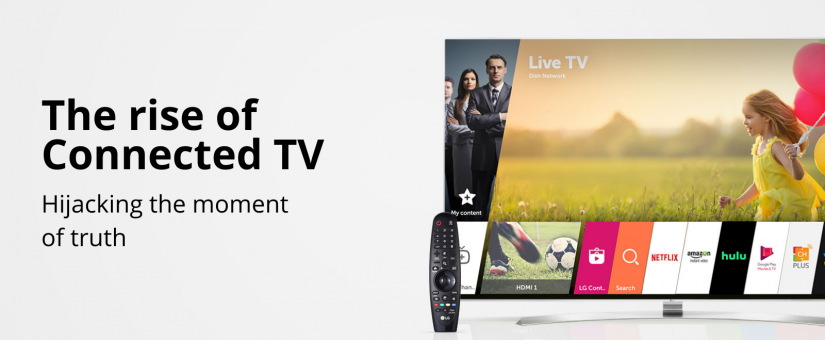 Posted by Reach MENA
On November 24, 2020
0 Comments
How Shahid VIP utilised the booming Connect TV medium to hijack the moment of truth
The pandemic has significantly changed consumer habits, resulting in marketers shifting budgets to new channels to reach their audience. Connected TV, in particular, has seen massive uplift – and for a good reason. According to Neilson, during the first three weeks of March, streaming soared 85% compared to the same period in 2019. Locally amazon.ae sold 11,500 Smart TV devices between March-May, which is a sales increase of 50% when compared to the previous period. Time spent on Connected TVs has risen by 60% since March and the time spent on OTT apps is up 45%. With these types of numbers being widely reported, brands are quickly realising that by incorporating connected TV into their digital advertising mix, they can increase incremental Reach of campaigns by 3-5%.
TV Ad Metrics & Results
The Connect TV audience has been growing for years, but as we have seen, Covid-19 has accelerated the adoption exponentially across all generations. Studies into Connected TV advertising reveals that not only is there a broad audience, but brand uplift and recall is also impressive. Research by LG found Smart TV Owners perceive ads on Smart TV as less annoying than other digital ad platforms and are more enjoyable/engaging. Globally, almost 50% are aware of ads and 22% clicked; 58% of those who clicked on the ad consider buying the product and 33% of those who click have purchased the product.
Meeting consumer needs
In a time where consumer needs have changed, as much as consumer habits, maintaining active advertising is essential for businesses to survive. Amobee report found consumers are pivoting to try new products or services faster since the onset of coronavirus. Meaning this is an opportune time to advertise on channels that reach where the audience is – which is at home. As a digital platform that comes at a lower cost than linear TV and more measurable, we are seeing many brands turning to the Smart TV medium now.
How Shahid VIP used Connected TV
Shahid VIP, a video-on-demand and leading TV catch-up service in the Middle East & North Africa, wanted to increase awareness and subscription numbers for the Shahid VIP app in Saudi Arabia by promoting the latest available content.
"Connected TV advertising was a smart choice for us, as not only could we reach our target audience, we could also hijack the moment of truth – making it easy for viewers to click to the app straight from their device," says MBC's Head of Marketing, Richard Addington.
Targeting Arabic speaking streamers and series lovers in Saudi the campaign ran banners for four weeks across LG Smart TV devices. The campaign delivered a 0.7% CTR and reached over 1.04 million devices.
"By switching a portion of the campaign budget to Connected TV we have increased reach our campaign reach to target streamers, an audience that is difficult to reach."
"Streamers are a high value audience that are difficult to reach. What differentiates Reach MENA's Connected TV is that we target this audience segment in a highly viewable and brand safe environment on the TV's mainframe, not while they are surfing websites in the TV's browser" says Maher Ghazal, Chief Growth Officer for Reach MENA.