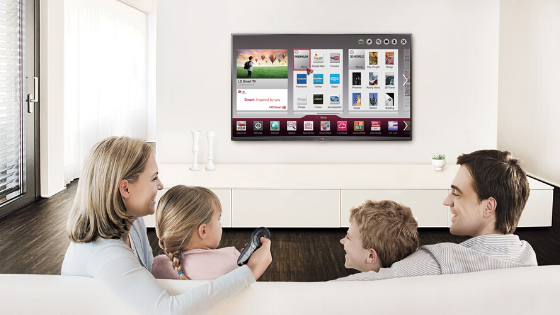 Posted by Adel Saadi
On February 26, 2020
0 Comments
Connected TV (CTV) is a rising star among the marketing community, and rightly so. Audience migration from linear television to Smart TV's and devices is strong and still growing. Furthermore, advertising on these devices blends the efficiency and analytics of digital advertising with the effectiveness of traditional TV.
The number of Smart TV's and OTT (over-the-top) devices in households globally exceeded 1 billion in 2019. In the UK alone, eMarketer suggests there will be 38 million CTV users by 2023 (that's 56% of the population). The industry is poised to reach $332.52 billion in 2025! Also, CTV gives brands access to video marketing opportunities in a relatively untapped space at a lower cost to traditional TV advertising.
Given all those impressive stats it's fair to say if CTV isn't part of your media plans, then you're overlooking a large audience and some serious revenue.
Getting to Know the Terminology

Connected TV (CTV) are TV's or devices connected to the internet.
Under the umbrella of CTV is Smart TV. An evolution of linear TV which has active broadband connection.
OTT (over-the-top) media services can be accessed through your Smart TV and gives you TV-like content over the internet (think Netflix and Shahid)
Reaching the Millennial Generation
Millennials are top of the hit list for brands, due to their high disposable income. When it comes to television habits, millennials don't have a nostalgic connection to TV like older generations do. In fact, over 65% of millennial homes ONLY use connected TV as their source of video content. Putting your business in front of this high-purchase power generation is essential for success.
For this reason, progressive marketers have drifted from TV and digital plans to integrated CTV strategies to gain continuous incremental reach.
Advertising on Smart TV
Adverts on Smart TV's appear on the high-trafficked home strip as either video or static images. Viewers see these ads as they navigate between streaming apps or when they want to change input (from TV to Du, Etisalat, Xbox, etc.). Research has shown savvy audiences prefer ad-free subscription services and use adblockers; this platform bypasses these hurdles, yet stays non-intrusive making it a sought-after space for many verticals including automobile, entertainment and food and beverage.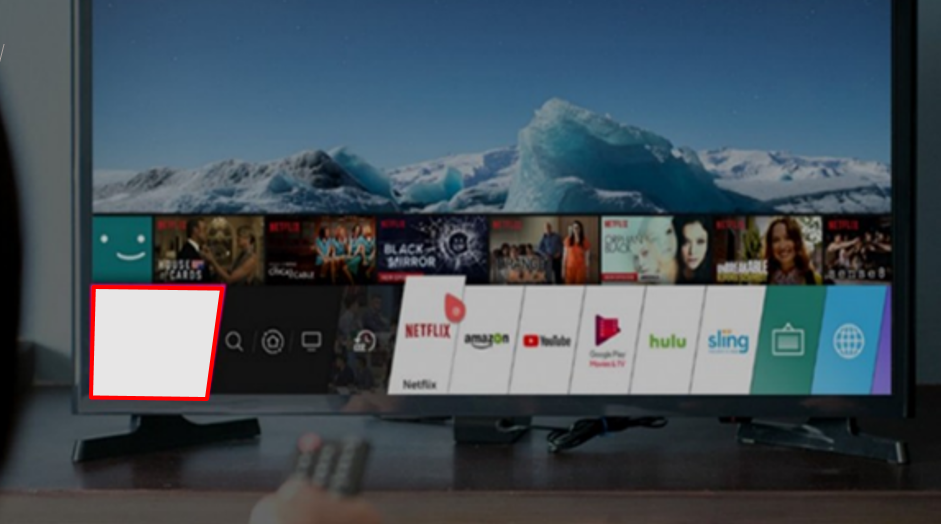 A continuing challenge with broadcast TV is the failure to drive lower-funnel actions. With this ad format, marketers can use various interactivity options within the unit to turn the TV into a performance machine! The three most common ad interactions are click-to-launch-a-website, click-to-launch-a-Smart-TV-App, and click-to-play-a-video.
All Smart TV ad formats benefit from the lean-back environment of TV viewing. Audiences are likely to spend longer interacting with brands, (1 minute on smart TVs – compared to 14 seconds on desktop, and 19 seconds on mobile!).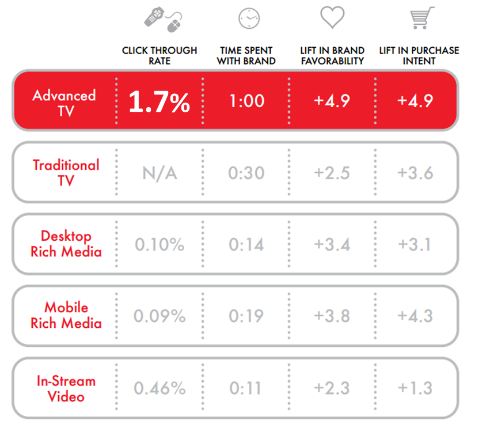 Driving viewers to make the initial click, requires businesses to think creatively – for example, consider a tie-in with popular programming. Viewers are used to watching cinematic content, and as your ad will feature on a large screen, in high-definition and surround sound, creativity and quality is key.
Other Benefits of Smart TV advertising
There is no denying the potential of Smart TV – uniting digital capabilities with the ad recall of TV means your spend will make an impact. A Nielson report found there was 50% ad recognition on smart TV – compared to 39% on desktop and 35% on Smartphones. Other research by professor Karen Nelson-Field of the University of Adelaide showed that TV commanded twice the active viewing of YouTube. It also commanded 15 times the active viewing of Facebook.
The big plus of Smart TV for performance-oriented advertisers, is the ads provide an opportunity to measure results. Insights available include viewability, completion rate, click-through rate, engagement, exact unique viewers and cost per view.
Summary
In 2017 digital ad spending might have overtaken TV ad spending, but TV remains the most significant reach vehicle out there. Smart TV's and OTT's are the new way people are accessing programming and is a trend that has no reason to cease in popularity – in 2018 70% of TV's sold globally were Smart TV's! In 2017 Google announced that CTV was their fastest-growing device segment on YouTube – and globally provided over 100 million hours of viewing. Today CTV can deliver ads through in-stream and out-stream to an audience who, so far, are approving of the commercials and more likely to click than any other digital format.
If you are interested in learning more about CTV, contact us today to receive our media kit and case studies.